Once again the Digiridoo Designers are rolling out one fabulous load of goodies after another! First, the April 2011 Collaborative Kit from the Digiridoo Designers,
Time for Tea
...you can have it for
FREE
with a $5 purchase in the shop through April 30. Check out the 79 papers, 101 elements and 2 uppercase alphas: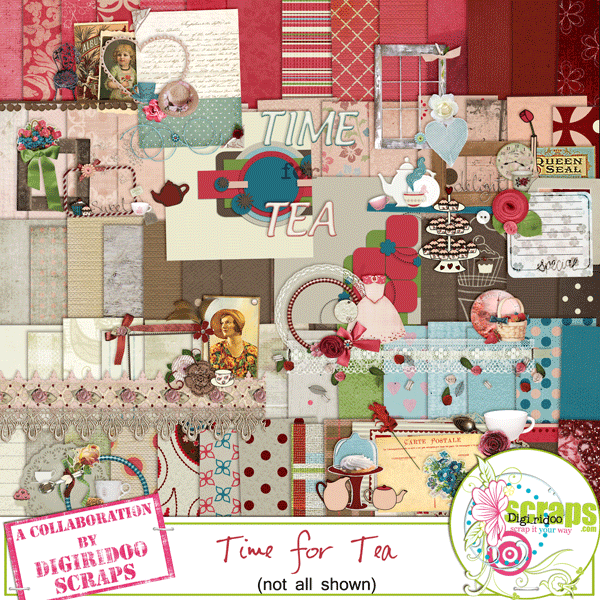 Studio 4 Designworks just released Daddy's Little Girl and I am just in love with everything about this kit!
I created the Blink of an Eye layout for
Digi Dare #223
and I also used a ruler from
Making the Grade
by Snippets Inc. and a watch from
About Time
by the Digiridoo Designers
Vicki (Dana's Footprint Designs) just came out with her newest kit, Bits of Yesterday and it's full of fabulous vintage goodies, but I really think that it can be used for current photos too. I need to find a bit of time to whip up another layout with this one!
I used photos that my mom had of a picnic at a neighbor's home during the summer of 1954. I just love that they brought the dining room table and chairs out to the lawn for the picnic! And, we think that a few folks are watching a softball game in the photo on the right.
Last, but certainly not least, I created this layout for the
Digiridoo April Color Challenge
with
Spring Cameo
by Sarah Barber Design; some elements were recolored or modified to meet the challenge requirements; Font: MTF Cutie Patootie
Finally, check out this month's Digiri-Challenges HERE and the selection of fabulous prizes that you'll receive just for participating. I'm hosting the Font Challenge this month with two very different fonts!!
Up next...Fantabulous Find Friday!